The following are guidelines to follow to make this wiki a safe place. Any questions? Visit an admin by looking at the staff page. See Bolts and Blip Wiki:Manual of Style for editing policies.
---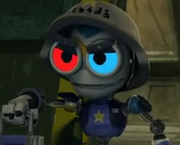 No bad language, spamming or vandalism. Violators will be blocked for a reasonable amount of time.
Use English when editing. This wiki currently does not have any other counterparts which have different languages right now. Use proper spelling and grammar.
Ask an admin if you need help. Local administrators can be located at Special:Listadmins. Go on one of the admins' message wall and contact them.
Can I share some fanon? Fan fiction is only accepted on blog posts, walls and any other means of socializing on the wiki.
No bad faith edits to get badges. We are all working to build the wiki and not just to get badges. Bad faith edits are not fair to other users who worked hard to earn badges. Violators will be blocked, thus removing achievements from that user.
Reference when needed. Reference when needed such as a trivia statement relating to real life like on D-Gor.
Promotions are earned. Ask an admin if you feel you deserve a promotion and he/she will check to see if you are eligible enough.
Have fun!
Community content is available under
CC-BY-SA
unless otherwise noted.